need to hire a magician?
magic and comic entertainment to lubricate your event and get your guests talking
"a sparkling blend of wit and illusion..."

Table magic and walkabout magic for dinners, birthdays, weddings, parties, trade shows, and more ... Magic Circle member Johnny Oxford is the table magician, wedding magician or corporate magician that will make your party or event truly memorable.
Clever Magic from an Oxford Magician
Like many of the UK's top entertainers, Northamptonshire magician Johnny Oxford studied at Oxford University before training in performance in London. He now performs right across the South East and the Midlands.
"Fantastic!" Jasper Conran - - - "Yeah, very good ...." Jack Dee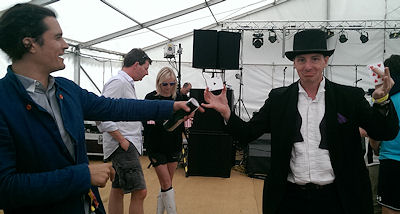 "Awesome - great hands man!" Orlando Bloom is amazed by Johnny Oxford
---
---
Versatile Northamptonshire Magician
Northamptonshire magician Johnny Oxford is very adaptable: For example, recently he was the magician at a 60th birthday party for 8 guests in a private room at a leading London restaurant, as well as being a trade show magician at London Olympia using close-up magic and humour to draw people to an exhibition stand and link them up with the sales team.
These are just examples from the last few days. Johnny also works as a magician at large parties (loads of 40th, 50th, 60th birthday celebrations), as a wedding magician, a magician at balls, dinners and at many community events.
Northamptonshire Comedy Magician
Johnny Oxford's speciality is as a comedy magician. He creates an instant rapport with guests and combines witty patter with stunning, mind blowing tricks. Magic takes place in your guests' hands and right before their eyes!
Mobile Magician
Whilst he is based in the South East and works a lot as a magician in Northamptonshire and the surrounding area, Johnny regularly travels all over the South East, London and the Midlands - wherever his unique brand of magical entertainment and comedy is required!
Close up Magician with Cabaret Option!
On many occasions Johnny combines close up magic with a cabaret slot involving a magical escape act and maybe even some dangerous juggling!
More Magical Possibilities...
As well as working as a solo magician, Johnny Oxford also runs an entertainment and party agency and knows many of the country's top magicians. So, if you need a team of magicians, or if Johnny is not available himself, then he can always arrange a magician or magicians to fit your requirements.
Looking for a children's magician?
Northamptonshire magician Johnny Oxford works as an adult magician but he can also adopt his alternative persona Juggling John to work as a children's magician and children's entertainer.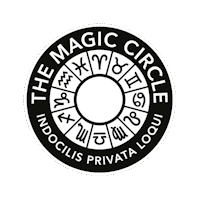 Member of The Magic Circle
Member of the Council of The Magic Circle

Member of Equity
Booking Terms & Conditions, Etc
---

- table magician - wedding magician - party entertainer - close-up magician - London magician -
corporate magician London - trade show magician London- exhibition stand magician London

Johnny's Blog

Johnny Oxford - magician London