Ideas for using Johnny at your wedding:
During the photographs - often many guests are left without much to do. Strolling magic from Johnny can break the boredom and turn the bit they dread into the bit they'll never forget!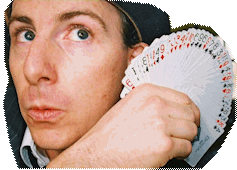 Table magic during the wedding breakfast (shouldn't that be the wedding dinner?...discuss). Each table gets their own 5-20 minute show.
If extra guests are arriving for the evening Johnny can perform more strolling magic for them as an ice breaker.
Obviously these are just ideas, it's your day, you will do it your way. Johnny is hugely flexible and is happy to fit in with whatever plans you have.